We provide USB drive recovery software to handle all sorts of data loss issues from USB flash drive media. USB drive data recovery program resolves all types of data loss issues that can occur when Pen drive is being accessed on your PC or similar gadgets. USB drive recovery program successfully recovers all lost or deleted data including text documents, pictures, videos, audios and other valuable data from flash drive, pen drive, thumb drive and other types of USB storage devices.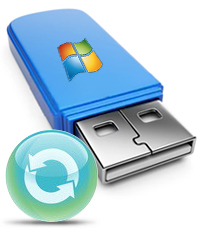 Have you ever faced such situations?

◉

"Drive is not formatted, do you want to format it now?"


◉

USB stick is not ready, not accessible?


◉

The device is not ready?


◉

USB cannot be detected by PC


◉

The USB drive is not formatted.

These situations are very familiar, you may have meet such situations, but how you tackle with it, Delete it? Or format it? If you have formatted USB drive and want to get back your precious data, then we can help you.

USB drive recovery software resolves all types of data loss issues that can occur when Pen drive is being accessed on your PC or similar gadgets. There are many uses of USB flash drive, including from personal data storage to portable Desktop, to business travelers carrying their files, USB flash drive is a useful portable storage media to transfer data.
Software Features

①

Recovers lost data from formatted or logically crashed USB drives.


②

Works with all major USB drives such as like Thumb drive, Jump drive, Key chain drive, Flash drive etc.


③

Recovers data from accidental deletion of files & folders.


④

Data recovery support to all major brands including Transcend, Kingston, Jet flash, Sony, Apacer, Sandisk, Lexar, Supermedia etc.


⑤

Retrieve and Restore corrupted files and folders damaged due to human error or any Virus Generated Data Loss.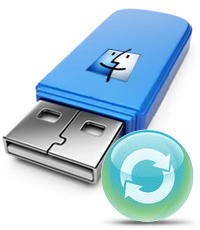 MAC USB drive recovery software retrieves lost crucial data from different types of USB storage drives including pen drive, flash drive, thumb drive, key drive and other types of USB drives. Pen drive recovery program for Mac OS X allows you to restore deleted or lost files and folders from USB drive using advanced disk scanning technique.

Recovers different types of file:

Mac pen drive data rescue software is helpful to recover different types of files (saved in USB drive) like:

◉

Text file


◉

PDF file


◉

Picture file


◉

Audio/video file


◉

MS Word file, Excel sheet, Power point slides and many more.

Software Features

①

Mac USB drive data recovery software recovers all lost data from logically corrupted USB drive.


②

Mac recovery software for flash drive provides advance and standard search recovery modes to recover your deleted USB drive data.


③

File program for apple Macintosh OS X provides preview facility so that you can easily view your recovered files before final recovery.


④

Data recovery software recovers lost data in major data loss situations like formatted USB drive, virus infected USB drive, improper use of USB drive, accidental deletion of original data and other similar data loss reasons.

Quick Links for Our Other Software
Windows Data Recovery
We provide different data recovery software to recover all corrupted, deleted or formatted data such as photos, documents, videos, audios, images and various other valuable files from computer hard disk drives, memory cards, pen drives, digital camera and all other data storage devices.

Mac Data Recovery
Company provides wide range of Mac Data Recovery software to restore deleted or accidentally erased media files from memory card, mobile phone, android based media storage device. Professional Mac data recovery software restores missing images, audio, video files from hard disk.

Our Other Products
Our other business products provides database conversion utility, password recovery tool, Bulk SMS program and various other PC forensic system tools to monitor computer in hidden mode. Setup maker software and accounting tool adds business utility in automating your complex work.